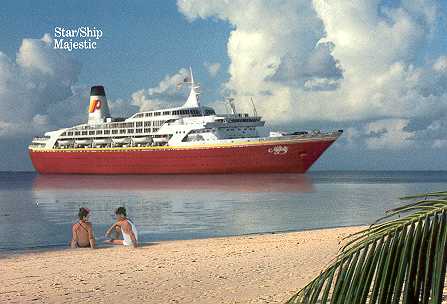 So, I'm sitting in my first period class today, the kids working on their lesson, when my cell phone rings.  I don't turn off the ringer at school because I then forget to turn it back on.  I check the number, don't recognize it, and put it back in my pocket.
Second period I teach with a special education teacher who's awesome, so I told her I needed to check the message.  I went into the stairwell so I had coverage, and listen to the message.  Some lady says she has great news for me.  Call her immediately.  Okay.  I go get paper and a pen, back into the stairwell.  I call this woman and she confirms that it's me, then tells me calmly that I entered a drawing for a new Lexus, but that drawing isn't until February, but instead I have won a cruise.  I have 1 year to book it, everything is included, and it's to the Bahamas.  
Here I am, sitting on the floor of the very dusty and dirty stairwell, saying, "oh, okay, so the car drawing isn't until February?  Okay, so are you serious about the cruise?  What do you mean, I've won a cruise?"  And so forth.  Because I've never won anything in my life like this, you see, and it was a bit strange to get this call at school and then go on with my day as if nothing happened.
The catch is-of course, you knew there would be one-is that we have to drive up to Princeton tomorrow night to hear a one hour presentation and then we can collect the cruise vouchers.  I immediately posted on the Close to My Heart yahoo boards that I belong to, and their opinion was time share presentation.  Okay.  I'll listen to ya, but you aren't getting me to buy no stinkin' time share!  Not that I don't like the idea of them, we just have ZERO extra dollars to spend on time shares.  But I'll certainly sit attentively and watch the power point and look at the brochures and then go on a CRUISE!  WHEEE!!!!  
I will update you on the results of all of this tomorrow night or Saturday, and hopefully I won't regret putting that big cruise ship up on the top there!!!