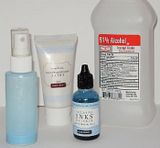 Reason 22:
 Second post today, please scroll down to read yesterday's reason!  My reason today is
COMMUNITY
!  This photo comes from a fellow consultant,
Christine Adams
, who blogged about making your own glimmer mist from CTMH products. She wrote about how to create this on her blog (click on her name to go to her blog, she is an amazing artist), and I have been thinking about using glimmer mist in my own projects and teaching my customers how to do it as well.  Close to My Heart has all levels of consultants, from hobbyists who only order for themselves to full on business owners who are not only in it for pleasure but make a LOT of money as well!  I can cruise our company bulletin boards for ideas, ask questions, view amazing artwork, share ideas and artwork recipes, and learn from those who have been in my position.
We have a strong sense of community in this company.  I feel like I know so many fellow consultants from chatting with them online, on the bulletin boards, and on our team yahoo group, and actually I have not met many of them in person yet!  CTMH convention is in July and I will get to meet them in person and I am so excited!  If YOU join CTMH this month, you not only get the $400+ in products but you can still sign up for convention (but hurry, not many seats left now).  JOIN THIS COMPANY!  It is truly the best!